After having spent enough days in the marsh, there comes a point where you just know whether or not things are going to work out for you on any given day by the time the sun creeps over the horizon. If you don't have ducks landing in the decoys in the dark while you're cooking bacon in the boat, the odds that it's going to happen later in the day seem slim. For my days in the spring with a camera I can just sense how things will go as I am walking out...taking into account things like the clearness of the sky (sunnier the better), presence of a decent wind (10mph+ and in conjunction with the wind at my back), ducks surrounding my specific spot, and just that general sixth sense awareness that you have after doing it enough times. The evening of March 26th I checked the weather forecast and saw West winds predicted for the next morning. That is not something to be excited about for a duck photog...at least in the AM hours.
For those unaware, ducks typically land against the wind. Against a west wind they will be coming from the East. It just so happens that in the morning the sun rises from the East. It's incredibly difficult if not impossible to get a decent photo of a duck when facing into the sun. It has nothing to do with the ducks themselves, but all about how a camera works with the light that is available. Typically in that scenario you have a very bright background with a shadow for a duck. While this can create some interesting perspectives, that isn't generally the images we are looking for. So ideally in the morning you have a wind anywhere from Northeast to South...anyone worth their salt can make something work with that light in the early hours of the day. As the day wears on you want to see a westerly wind as opposed to east...to follow with the sun behind your back.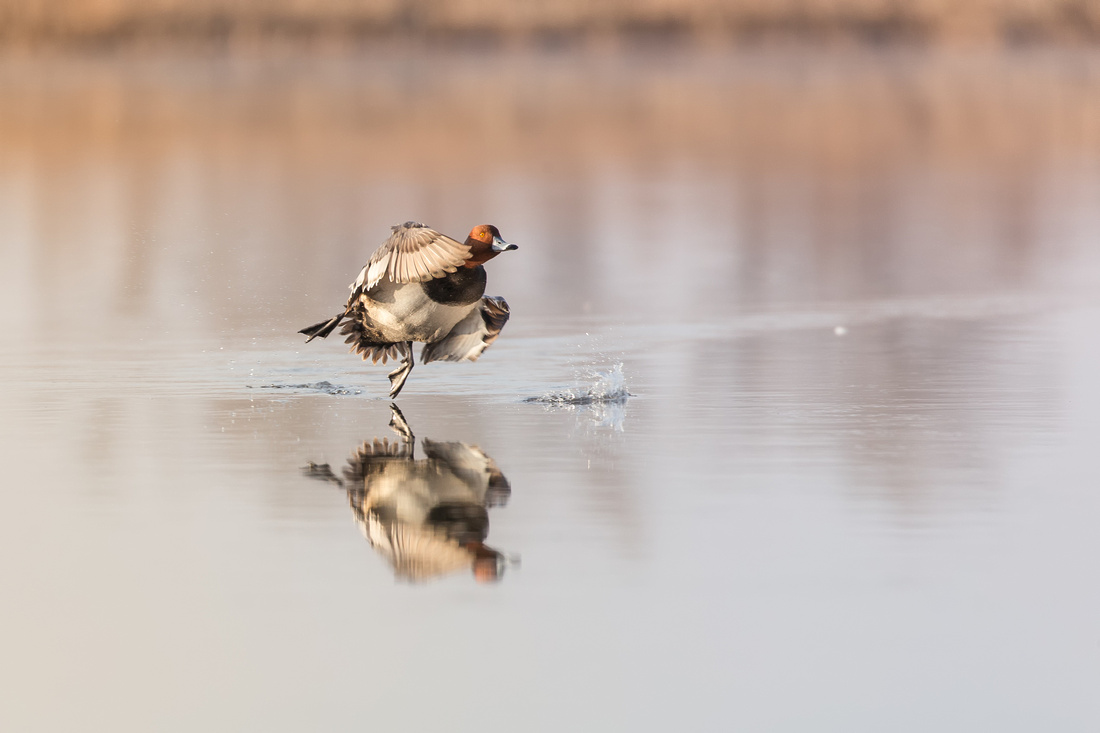 There are two reasons for wanting the sun at your back. The first and most obvious to a photographer is that the subject will essentially have a spotlight on it, giving you the best lighting situation available. The second reason though is typically not as obvious to someone who doesn't spend much time in the marsh in a duck boat. If you've ever looked at an object against the sun, generally all you can see is a shadow against a bright sky. This lighting situation will "hide" you better than any camouflage or blind that has ever existed. The image below is a shot I took of a friend shortly before the sun found the horizon.
So, as I read the weather forecast on that night, I knew the next morning was going to be difficult at best. Having the wind in the opposite direction we wanted, I decided to not even try for the typical shots that I go for, but instead to try for something different. Side illuminated and back-lit subjects were going to be my focus. That is, until the first duck came straight in and I couldn't resist making an attempt. We moved three different times, hoping that a slight change in our juxtaposition to the sun/wind would help make something interesting happen but it really never worked out. So we called it quits for the morning and hauled all of our gear the 1/3 mile back out to the trucks.
I got home and had a few hundred images on my camera. I actually had some that were surprisingly good and unique. The majority however, were immediately discarded. As I spent some time that mid-day catching up on editing from previous days, I kept my eye on the weather forecast and saw that the sun was going to stay out and the winds would stay strong from the West. With this in mind I had to go check out one of my favorite sloughs. The main intersection is about a mile and a half away from the slough itself and I could already see ducks swarming over it. As I approached I had a smile as I drove by and saw it loaded; mainly with redheads, mallards, and some bluebills. I texted my buddy and told him to get here asap and that I would be setup already waiting for him.
A quick canoe paddle brought me to the west side of a beautiful,shallow, cattail marsh. The water was about thigh deep and I didn't have my taller stool along for the day so I was lucky to use a 5 gallon pail, which put the better part of my legs and butt in the water. Even with waders it gets cool quick in 33 degree water. With about 50 decoys set out in front of us we sat and watched a few flocks and half a dozen singles essentially ignore us. We made an executive decision to move down about 40 yards to a small point. What a decision that was. As we were still standing in the decoys we had redheads landing among us after our quick relocation.
I hurried to get sat down as quick as possible and get my camera and "seat" arranged. Almost immediately we had birds coming in and flying by us in some of the most perfectly filtered light you could ask for. In two short hours I took approximately 1700 photos. It was one of those evenings where it was so good that I actually recognized how good it was. I've done this a fair amount more than Ray has and I'm sure he was annoyed with how much I made a point of acknowledging how good it was but I couldn't just let something like this slip by without fully relishing in it. It seemed as if a duck wasn't able to resist the gravity of our decoys...almost everything came in, and came in close, and was washed with a perfect golden glow of light. So perfectly were things working out that barely a shot was out of focus as they approached. I have never seen my own face as I rip off 20-30 photos of an incoming flock of bluebills or a single mallard drake, knowing that they are all in focus, but I can only guess that the smile on my face is rarely equaled.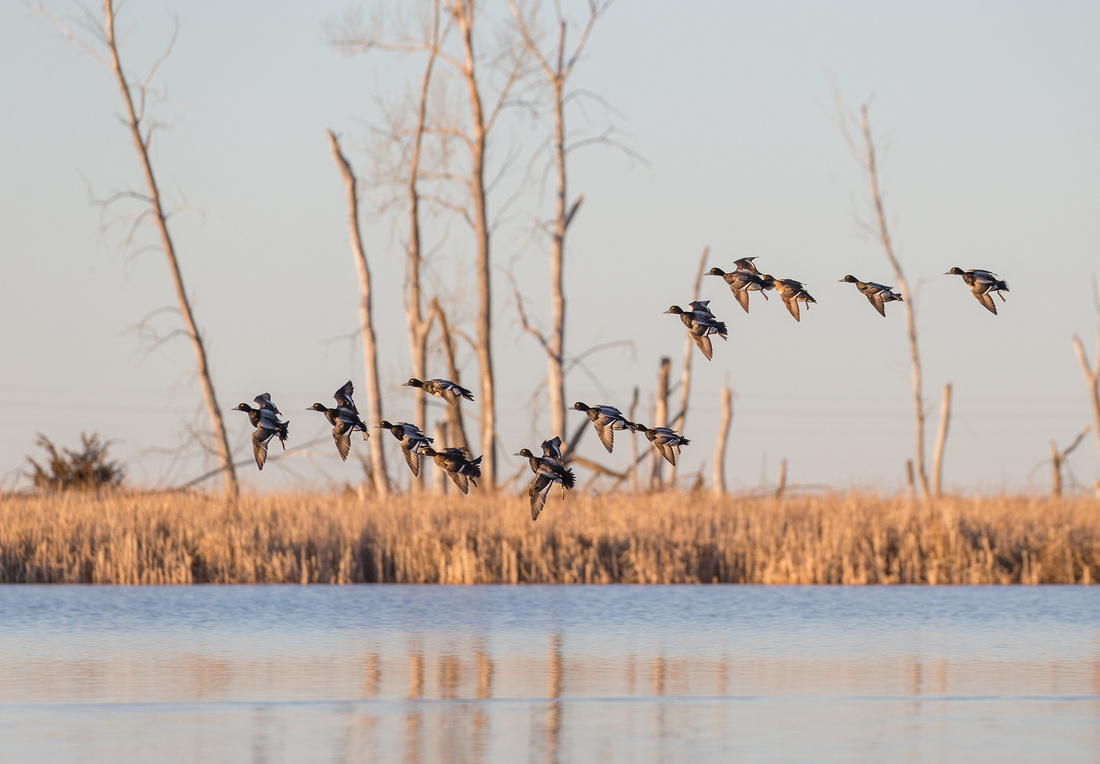 Twilight always creeps in on these types of evenings. You don't so much notice it getting darker but you notice by the amount that you have to keep adjusting your camera to allow it to take in more light. During the last 20 minutes of usable light you feel as if you are constantly checking to make sure that your images are bright enough, and reacting accordingly. Although there is never a clearly defined time when it's too dark, you just notice that time period has arrived and on this evening we stuck around probably longer than we needed to but this doesn't happen all the time so it's fun just to let it happen. An extra 15 minutes at sunset to watch the spring migration unfolding right before us is 15 minutes that I will never regret.